About ChristyMcGee Insurances
Christy McGee Insurances Ltd are a North East based Financial Adviser, providing sound financial advice to Businesses and customers nationwide. We're long established in our current offices at 3 Crowe Street, Dundalk having opened our doors back in 1997.
We have built up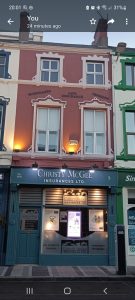 a reputation for providing first class financial advice on everything covering Life Insurance, Pensions, Serious Illness cover, Investments & Mortgages .
During consultations with our clients, either in our offices in Crowe Street or in the clients house, we discuss their financial needs and objectives. We carry out a full fact find with our clients and this allows us to determine exactly where a protection or pension shortfall may occur.
Our terms of business is available for download, just click Terms of business Terms of business February 2022